Concert Tees for Concert Lovers
Introduction
Screen printing has been popular since its invention in 1907, and concert tees are a popular item for screen printing. Concert Tees are merchandise sold at concerts and other outlets as additional sources of revenue for the music industry. They are worn for promotional and social purposes. Some concert tee's become collectibles due to their rarity and are sold on auction sites for thousands of dollars.
Today new advances in tee shirt printing technology allow you to custom design your own concert tees. Tee Junction can print these designs and have them shipped straight too you. Your own custom printed t-shirt can have the same design as vintage concert tees though with higher quality printing that will last longer than the original, and is orders of magnitude cheaper.
What is Screen Printing?
Screen printing or silk screening is the way designs are printed on t-shirts. It is basically mechanized stenciling. The process begins by stretching a fine mesh around a rigid frame. Then a template is attached to the screen. The template covers the portions not to be printed. The completed screen is placed over a t-shirt then ink is pressed through the screen leaving a print. Multiples templates can be used on the same shirt to create a multicolored screen print. Screen printing is one of the most commonly used techniques for putting a design on a t-shirt (Wynn, 2013).
What are Concert Tees
Concert Tees and other merchandise are used as an additional source of revenue by musicians and concert promoters. Concert Tees are t-shirts with images of musicians, tour schedules, or other images associated with the musician screen printed on them. An example would be t-shirts with a teddy bear on them representing the Grateful Dead. Concert T's not only act as an outlet for artistic expression buthave a practical purpose as well. They can be worn by fans to school or to local music venues to promote their favorite artist.
Wearing a concert tee also has a social purpose oflettingothers know the wearer's musical tastes. Concert tees are sold at music venues, clothing shops, online, and on street corners. The can act as an investment as collector demand can increasevintage concert tees value over time, so hold on to your concert tees as they may be worth something someday (Pollick, 2003).
Original Screen-printed concert tees are sold for outrageous prices to collectors.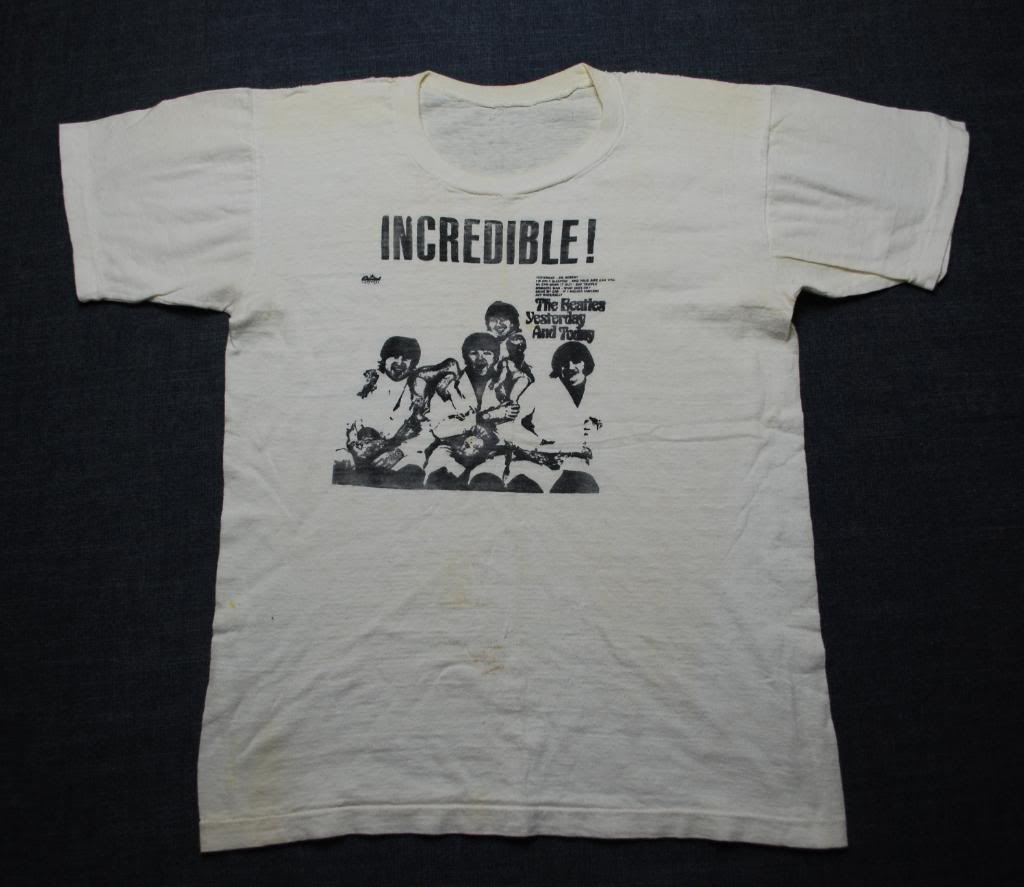 This Beatles 1966 Butcher Tee sold for $20,000 The tees value comes from the claim of authenticity. Collectors will pay big money for a piece of history. The history behind this particular tee was the release of the Beatles Butcher Compilation. The Butcher was released which had album article featuring the Beatles wearing butchers clothing alongside raw meat, and broken plastic baby dolls. This imagery created a lot of controversy and the album art was quickly changed. The combination of controversy and rarity are what made collectors willing to pay such a high price for this tee (Boyles, 2013).
Design Your Own Concert Tees
Tee Junction uses digital direct-to-garment (DTG) advanced printing technology using high quality ink to make any tee design you desire (Tee Junction, 2013). Direct to garment printing is better than screen-printing because it uses higher quality ink, can do multiple colors in one pass, and is far cheaper than the same design using screen printing. Using DTG technology, you can print perfect replicas of classic concert tees such as the Beatles Butcher Bay tee shirt shown above, or make your own concert tee with whatever art you can imagine.
Works Cited
Boyles, J. (2013, May 29). 10 Most expensive vintage concert T-shirts on eBay. Retrieved from Citypages: http://blogs.citypages.com/dressingroom/2010/12/top_10_most_exp.php
Pollick, M. (2003). What are Concert T's? Retrieved May 29, 2013, from WiseGeek.com: http://www.wisegeek.com/what-are-concert-ts.htm
Tee Junction. (2013, May 30). About Us. Retrieved from TeeJunction.com.au: http://www.teejunction.com.au/printing/1
Wynn, L. S. (2013, April 22). What is screen printing?Retrieved from wisegeek.org: http://www.wisegeek.org/what-is-screen-printing.htm